Colby H
Therapy Dog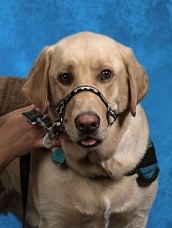 Special Education
---
Hello Knapp Families!
I want to take just a minute to tell you about a new opportunity for our school. I am part of a certified therapy team with my yellow lab, "Colby", who will be joining me at school on Tuesdays and Thursdays this semester.
Colby is our family pet; we brought him home from Cody, WY, when he was 9 weeks old! As part of therapy dog certification, Colby first passed his Canine Good Citizen exam, where he demonstrated basic good manners. Then we took the more intensive training to become a therapy dog team, which includes being able to tolerate noise, rough handling, unexpected movements, and medical equipment such as wheelchairs. We passed our exam in July, 2015 and are so glad to be together at Knapp.
Students who come to my office may interact with him in a variety of ways. For articulation, for example, students can use target sounds to ask me to have Colby do a trick (e.g., if the child is working on /r/ and correctly asks me for "rollover", Colby gets to perform.). I am hoping some of our non-verbal kids can be motivated to talk or use their device to request to see Colby. Kids who need social skills can learn about how to treat others with compassion. And students who have behavioral needs can be on an incentive plan (e.g., if you get your points today, you can come visit Colby at lunch).
Below Excerpted From:
Denver Pet Partners. "Facility Spotlight" (February, 2016): The Denver DisPPatch. Susan Horecki.
There are programs that serve kids by offering environments in which individual education plans (IEP) are created and monitored to address the needs of each person. These plans include academic approaches and interactions, but also a wide spectrum of support to help the individual achieve a greater degree of self-control physically, emotionally, and socially. Generally speaking, the goal is to help a child to participate in the least restrictive environment…..
So what do our Teams do to enhance these programs and what could you expect in these environments?
In most programs, our Teams have the opportunity to interact with individuals (youth or adults) one on one and in groups during classroom, communal, or recreational time. As you might imagine, giving an individual the chance to connect with our animals may well be the change agent for that day (or longer) and is likely to promote a sense of well-being that carries over to other activities and tasks.
Collaboration between a Team and the program professionals may also lead to more focused and goal-oriented activities through play time, reading, and other scenarios ...A Team has the chance to work with people over extended periods of time in these programs. This may mean that it is possible to witness the long-term benefits of repeated visits and develop a working relationship that is deeper on some levels.