Spring Concert! For kindergarten, 3rd grade and choir. Thursday, March 21st at 4:00 in the MPR.
¡Concierto de primavera! Para kindergarten, 3er grado, y el coro. Jueves, 21 de marzo a las 4:00 en el MPR.
Estherrose Ventura
Teacher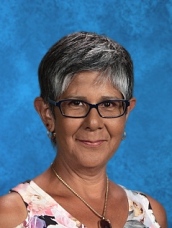 Email:
estherrose_ventura@dpsk12.org
5th Grade
---
Ms. Ventura grew up in Denver and is a DPS graduate. After graduating from Metropolitan State College she began her teaching career. Prior to becoming a teacher for Denver Public Schools, Ms. Ventura taught for the Archdiocese of Denver, Chicago Public Schools, and Colegio Nueva Granada in Bogota, Colombia. She has been a teacher with DPS for close to 25 years. In her free time, Ms. Ventura enjoys spending time with her family, traveling and hiking.