Spring Concert! For kindergarten, 3rd grade and choir. Thursday, March 21st at 4:00 in the MPR.
¡Concierto de primavera! Para kindergarten, 3er grado, y el coro. Jueves, 21 de marzo a las 4:00 en el MPR.
Jess Perry
Visual Arts Teacher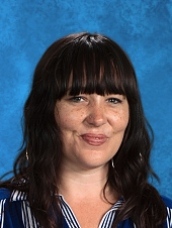 Email:
jessica_perry@dpsk12.org
Specials
---
Ms. Perry is the Visual Arts teacher for grades K-5. Before joining Knapp she taught for ten years in Rhode Island. Perry graduated in 2004 from SUNY Buffalo with a degree in art education. In 2008 she completed her M.ED. at Lesley University's Creative Arts and Learning Program in Cambridge, MA. Artistically she has shown her paintings and assemblages in various gallery settings. In 2014 she was awarded Rhode Island's Outstanding Art Educator of the Year in the special needs category. In the summers she teaches teens at The Rhode Island School of Design, paints in her studio and enjoys the outdoors with her son and dog.