Spring Concert! For kindergarten, 3rd grade and choir. Thursday, March 21st at 4:00 in the MPR.
¡Concierto de primavera! Para kindergarten, 3er grado, y el coro. Jueves, 21 de marzo a las 4:00 en el MPR.
Kevin Simmering
Teacher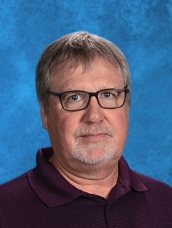 Email:
kevin_simmering@dpsk12.org
5th Grade
,
Teacher Leader & Collaboration
---
Mr. Simmering is from the frozen tundra of North Dakota. Way up North in North Dakota, approximately 6 miles from Canada, he grew up in a town of less than a 1,000 people called Rolla. Upon completion of high school in 1983, he attended the University of North Dakota and eventually graduated with a Business degree with an emphasis in Finance from Southwest State of Minnesota. After working in the banking and finance field for numerous years, he completed his Master's work in Elementary Education from University of Phoenix in 2003. He has been teaching at Knapp Elementary. He is married, to a teacher, and has two children. They love to spend their summers together enjoying the great outdoors.