Spring Concert! For kindergarten, 3rd grade and choir. Thursday, March 21st at 4:00 in the MPR.
¡Concierto de primavera! Para kindergarten, 3er grado, y el coro. Jueves, 21 de marzo a las 4:00 en el MPR.
Pennies for Patients
Posted 01/07/2016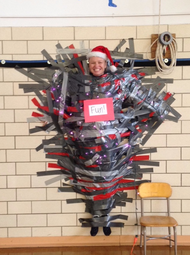 Our students have been collecting pennies to support the Leukemia and Lymphoma Society (Pennies for Patients). Our culminating event was "Stuck for a Buck"! Each student who donated  $1 received a piece of duct tape to tape Mrs. Grommeck to the wall. We're happy to share we raised over $300 in one day!